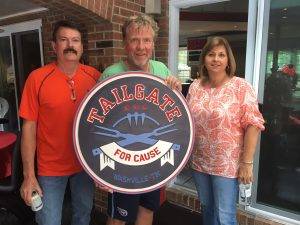 We are back and very excited to tell you about the 2016 Tailgate for Cause and Titans tailgate season. As you might already know, the 2015 season for Tailgate for Cause went extremely well thanks to the generosity and support of many great sponsors and individual tailgaters a like.
The impact we made after our first tailgate last season, fueled our energy, motivation and drive to support more local charities and bring awareness to the public. As a whole, Tailgate for Cause raised over $16,500 for local charities right here in Middle Tennessee during the 2015 season!
From the time the idea was born and the last home game of the 2015 season, we had been featured on News Channel 2, News Channel 5, Fox 17 and also were in several articles in The Tennessean. For media coverage and more on these tailgates, please visit our website: www.tailgateforcause.com.
The 2016 schedule is official and enclosed is the schedule along with our sponsorship levels. By becoming one of our Champion level sponsors, your company will be featured at every Titans tailgate as well as online, in print and social media. Sign up early to be featured during every tailgate this year!
We will personally reach out to you to answer any questions you may have.
Go Titans!